About us at Surreal Property Group Bayswater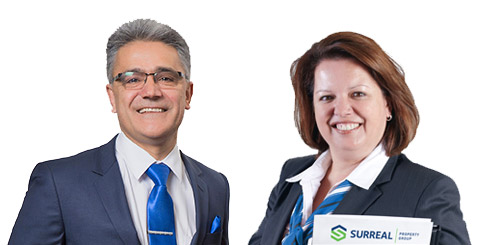 Surreal Property Group Bayswater is a successful, honest agency run by down-to-earth, real people committed to client service and success. Husband and wife team Don and Linda Mitrevski operate a stand-apart office dedicated to genuine levels of customer care. Their no-nonsense, results-driven approach exceeds expectations by a country mile and sets new benchmarks in local real estate service delivery.
Don and Linda, with a 30-year background in real estate, buying and selling businesses, and owning and operating hotels, motels and luxury apartments, purchased the well-established Bayswater office in 2012 and now Vermont, moving from country Victoria to Melbourne to be closer to their children. The couple, originally from Melbourne, offer country values, city know-how, and innovative marketing and networking resources.
About Don- Licensed Estate Agent
Don, a Licensed Estate Agent, oversees the Sales Department, which expertly handles residential and commercial sales. The expanding team at Surreal Property Group also specialises in appraising and selling businesses and large-scale developments. Linda, also a fully Licensed Estate Agent, heads up the Property Management Department, which offers both management and asset-growth services.
Bayswater Surreal Property Group team
Don and the team have a large network of loyal, repeat and referral clients, built over many years of positive working relationships founded on honesty, openness and integrity. They are known for their wholehearted commitment to attending to clients' needs and wants, for their credibility and following through on promises – and for telling it as it is. "Sellers have a lot at stake; they deserve realistic appraisals, a straight-talking approach and honest feedback," says Don. "They simply want to get the job done and get the best price with the least amount of stress. Life's too short for anything else."
The Bayswater area, location and attractions
The Bayswater and Vermont areas are very popular given its affordability and quick, easy access to both the Central Business District and beautiful Dandenong Ranges. The Eastern Suburbs offers a wide range of housing options and excellent services and facilities, including the Bayswater Village Shopping Centre, Bayswater Park, and a train station. While investors enjoy the excellent value for money and good returns Bayswater offers, several exciting new developments look set to re-invent the suburb and secure its bright future. Look forward to seeing you soon @ Surreal Property Group
Here is a map you can click on to find our location